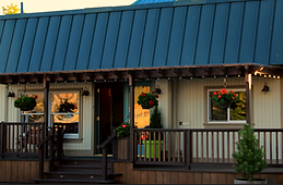 Remember when personalized service and value for your dollar were the norm? Imagine an inn with actual innkeepers who care about your comfort and needs. Imagine getting a comfortable room, modern amenities and a great location for a realistic price. If you're looking for an attractive alternative to "cookie cutter" chains and corporate pricing, look no further. The K2 Inn has just what you want.
​​The K2 Inn is a landmark in downtown Sandpoint. Cozy, quiet and close to everything there is to do and see in town, our location is perfect for those vacationing for a week or just staying the night. Getting the best rates downtown doesn't mean sacrificing quality. Our rooms are clean and well appointed to make your stay with us comfortable and relaxing.
​Our guests tell us regularly we're the best place to stay in downtown Sandpoint. That's because guests at the K2 Inn are exactly that, our guests. We want you to feel at home and will do our best to make sure your entire stay is pleasant and relaxing. The value of our rooms may bring you here, but our hospitality will bring you back.​